The present castle at Torri del Benaco was built on the orders of Antonio della Scala in 1383 on the ruins of a previous one, dating back to the Xth century, of which the West Tower still remains.
In 1760 the second curtain wall was pulled down to make way for the Lemon Grove. The decline of the Castle was ended in 1980 when the Commune of Torri put in hand its complete restoration under the architect Rudi Arrigo.
The Scaliger Castle Museum
1. Caulker Room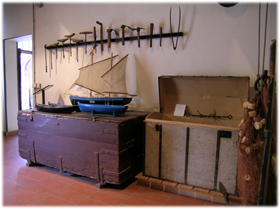 This section shows the work of the boatbuilders and caulkers, craftsmen dedicated to the building and repairing of fishing boats.
2. The Olive Room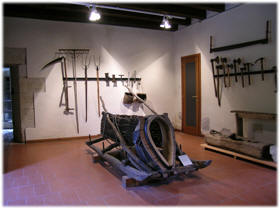 The room illustrates the cultivation of olives, the main economic activity of the countryside around the Upper Lake. The tools on show are particularly interesting, especially the sledge and the small home press for oil.
3. Olive Press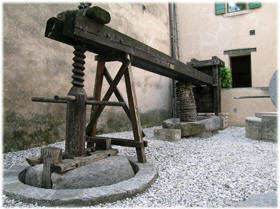 In this section there is a reconstruction of an olive press. The parts in stone are original and date back to Roman times, these are for crushing the olives.
4. Fishing Room
This hall was the first in Italy to be entirely dedicated to fresh-water fishing. It brings together extremely rare antique nets, a flat-bottomed Gondola, as used on Lake Garda, and an almost complete collection of nets equipment used by the fishermen on our Lake.
5. The Conservatory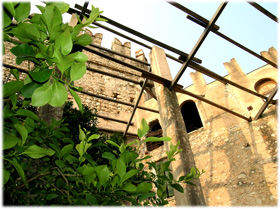 Backing onto the south facing wall of the castle is one of the few remaining groves for citrus fruit still in use on Garda. It was built in 1760.
6. The Towers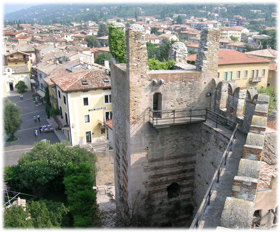 There is a magnificent view from the battlements over the little harbour and ancient roofs of Torri, as wellas almost the whole of the Lake from Sirmione to Limone.
7. Original Founder Room
In this room there are documents tracing the history
and activities of Original Founders of the Fisherman's Guild of Torri and Garda, founded in 1452 and still in existance. The net on display is a «remàt» used for catching shad at «Pal del Vò».
8. The Model Room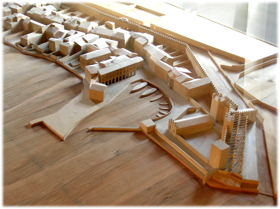 The model shows Torri as it was in the early 1900's. The two big maps, Venetian period, give a clear and detailed idea of Torri and its land as it was at the end of the 18th century.
9. Rock Engravings Room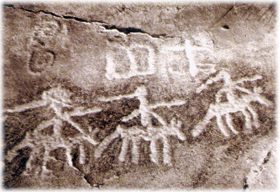 This section shows by means of maps and casts the interesting and unusual engravings of the Garda area. A great many examples are found in the Torri area, some of which are prehistoric.
Route map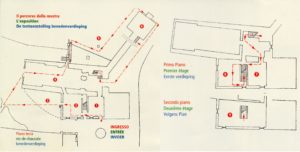 Translation by Katie Ellis